Thick smoke returns to Minnesota at least through Friday
Jul 30, 2021 05:37AM ● By Editor
Smoke in the air in Glenwood, Minnesota on Thursday, July 29.  Photo: 
Barb Schwarz / FOX 9
By Cody Matx of Fox 9 News - July 29, 2021


Dew points are dropping and far more comfortable air is moving back into the state, but it comes with a downside; smoke. The same northerly winds pushing the heat and humidity to our south will be blowing thick smoke in from dozens of large fires north of Winnipeg.
The smell of campfire will permeate the air, visibility could drop below a mile at times, and the thickness of the smoke will make it unhealthy for everyone at times through Thursday and into Friday.
If you are especially sensitive to poor air quality, you should try to stay inside as much as possible over the next 36 hours, especially when smoke is particularly visible in your area.
While we likely get a break from the thickest smoke by late Friday, air quality may be flirting with poor levels over the weekend as well as dozens of Canadian wildfires remain out of control.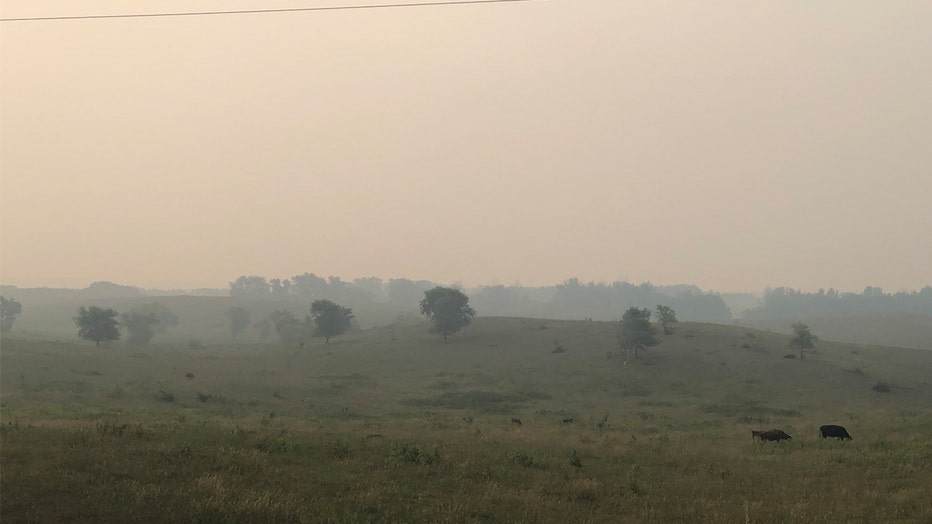 Thick smoke is expanding across central Minnesota on Thursday.  Photo: Barb Schwarz / FOX 9
"You literally like you're standing next to a bad campfire," Shane Dixon, who was playing softball in St. Cloud Thursday night, said.
"Some people are wearing masks because of the smoke," Carla Arndt, who was working outside at a vegetable booth in St. Cloud on Thursday, said.
"What makes this worse is that the fires are so close to Minnesota that the smoke can get close to the ground and affect us at ground level," Nicholas Witcraft, Air Quality Meteorologist with the Minnesota Pollution Control Agency, said.
"It's bad enough out there today that yes the general public even healthy people could be affected by these air quality levels," Witcraft said.
Doctors at a CentraCare clinic in St. Cloud say they're seeing the effect of smoke in the air the last few weeks.
"Patients who have been relatively stable have come in with a need for treatment," Dr. Justin Stocks, a Pulmonologist at a CentraCare clinic in St. Cloud, said.
Dr. Stocks says people with pre-existing respiratory conditions are at the highest risk when the air quality is this bad but kids can also be greatly impacted.
"Children are actually very susceptible this is due in part to their lungs are still forming," Dr. Stocks said.
Many youth sports programs were called off Thursday because of the smoke. Witcraft says the MPCA is closely watching conditions and Saturday afternoon could be another time we see poor air quality because of the Canadian wildfires.
To see the original report and read related stories, follow this link to the Fox 9 News website.  https://www.fox9.com/weather/thick-smoke-returns-to-minnesota-through-at-least-friday