Video: Protests in Brooklyn Center remain calm as Saturday night curfew goes in effect
Apr 18, 2021 06:06AM ● By Editor
Watch the Fox 9 News Report here
Protesters chant at the security fence set up around the Brooklyn Center Police Department. Photo: 
FOX 9

From KMSP-TV Fox 9 News - April 17, 2021


The seventh night of protests in Brooklyn Center following the death of Daunte Wright has remained calm through the evening and as a late-night curfew went into effect.
Wright was killed nearly a week ago when he was shot by a Brooklyn Center police officer who apparently mistook her gun for her Taser. That officer, Kim Potter, has since resigned from the force and has been charged with second-degree manslaughter.
Demonstrations on Thursday went off fairly smoothly, as police moved back away from fencing put up around the police department on Humboldt Avenue. Friday, things didn't go as well.
While police tried a similar tactic, staying back from the fence and limiting uses of force, officials say some members of the crowd tried to breach the fencing. That resulted in law enforcement agencies firing less-lethal munitions and eventually calling dispersal orders before pushing in and making arrests.
Saturday, however, seemed more like Thursday, with the few who have tried to escalate protests being met with interveners in the crowd.
Protesters also were greeted by two of the biggest voices in the fight for civil rights: Reverend Jesse Jackson and Rep. Maxine Waters.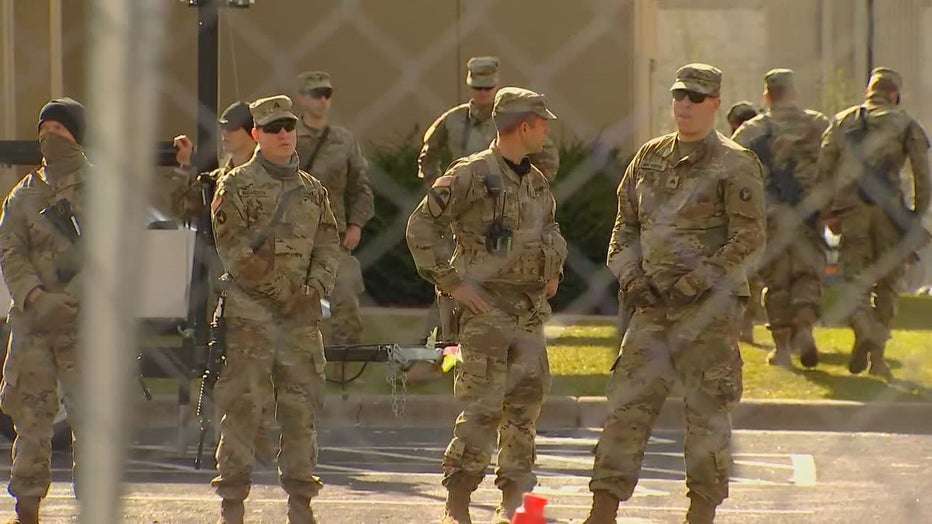 National Guard members, as part of Operation Safety Net, stand outside the Brooklyn Center Police Department on Saturday evening, as some protesters have already gathered.
Jackson greeted protesters earlier in the evening during a barbeque while Rep. Waters gave an impromptu press conference later in the night, urging demonstrators to take their fight to the polls and vote for change.
As of midnight, only a small group remained at the police department.
To see the original story and read related reporting, follow this link to the Fox 9 News website.  https://www.fox9.com/news/brooklyn-center-declares-11-p-m-curfew-on-saturday-with-more-protests-plan...