Walz announces vaccine timeline: Seniors now, all Minnesotans this summer
Feb 25, 2021 04:26PM ● By Editor
Photo: KARE 11 News
From KARE 11 News - February 25, 2021

Governor Tim Walz provided new information Thursday about when the state will expand eligibility for more groups to receive COVID-19 vaccines.
According to the governor's office, vaccine eligibility in the state will not expand until 70% of Minnesotans ages 65 and older are vaccinated, a goal the state hopes to achieve by the end of March.
Since vaccinations for people 65 and older began in January, more than 43% of people in that eligibility group have received a vaccine. At the beginning of the pandemic, one of the biggest concerns was high case and death rates in nursing home settings. According to the state, nearly 90% of coronavirus deaths in Minnesota are in the 65+ age group. In 12 months, one in 200 people 65 and up have died from COVID-19, Walz said. However, deaths in long-term care facilities are down 97%, and cases are down 80% from November.
"We set out to protect the most vulnerable Minnesotans, and we are honoring that commitment. Older Minnesotans have borne the brunt of the COVID-19 pandemic and we are focused on making sure they get vaccinated and keeping them safe," said Walz in a statement. "We will continue working with a robust network of providers to vaccinate all Minnesota seniors who need the most protection against COVID-19 right away."
Once the 70% benchmark is hit, vaccinations will expand based on underlying health conditions and "workplace exposure risk." The state anticipates inoculating the next group of people starting in April, with all Minnesotans able to get a vaccine by this summer. 
Based on the timeline below, people with high risk medical conditions like compromised immune systems, those undergoing cancer treatment, and people with Down syndrome will be eligible in early spring, along with food processing plant workers. Minnesota Department of Health (MDH) Commissioner Jan Malcolm said Thursday that this phase is expected to take only a couple of weeks.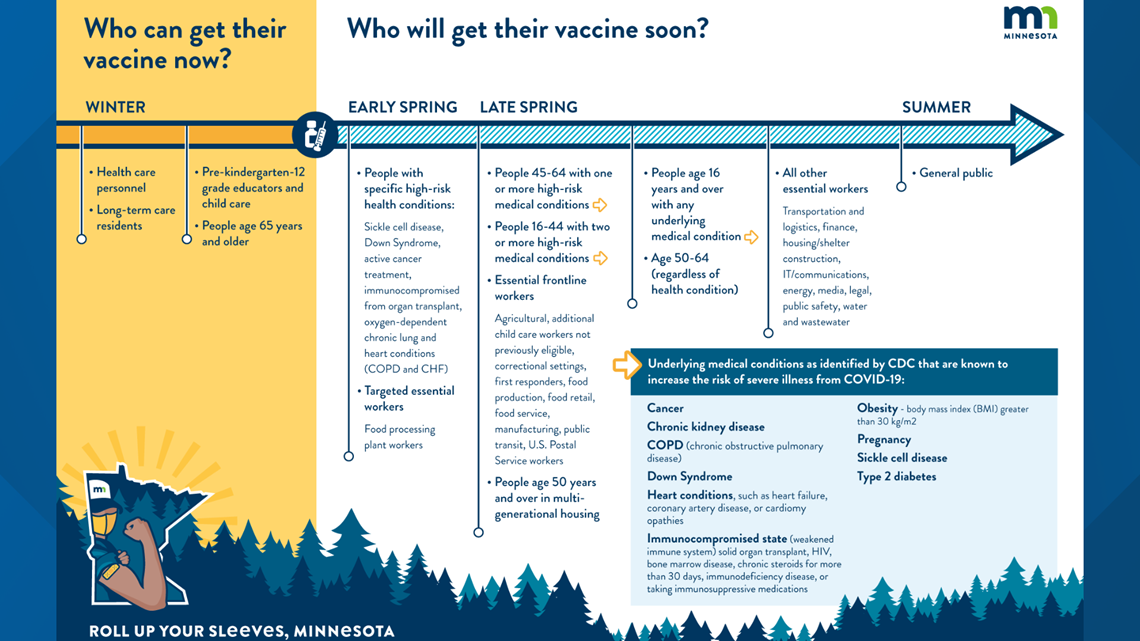 Credit: Minnesota Department of Health
Minnesota's vaccine expansion timeline
Malcolm added the goal of "summer" vaccinations for all Minnesotans could be as early as May-June.
In late spring the state expects to expand vaccinations to more people with underlying medical conditions in the 45-64 age group and 16-64 age group. A wider range of frontline workers will also be eligible.
The current timeline anticipates the general public and any Minnesotan who wants a vaccine to have access to it over the summer.
Minnesota Lt. Gov. Peggy Flanagan emphasized that focusing on seniors also means focusing on people of color and Indigenous people in that age group.
"We aim to deliberately and strategically provide vaccine access to communities disproportionately affected by COVID-19 as a result of inequities," she said.
Flanagan responded to questions about the 65+ age group being mostly white, saying targeted outreach is still needed to reach communities of color with vaccinations.
"That's what it's going to take," she said. "It's not enough for us to simply say there's systemic racism throughout Minnesota and the country so that's why it's hard. We have to figure out how to organize in these communities to make sure they're getting the vaccines that they need and deserve."
Flanagan said the state's efforts to vaccinate Minnesotans will not be fast enough to satisfy everyone.
"Today's a day that all of us have been looking for," Walz said when he arrived at the podium for a Thursday news conference. "Today marked one year since the first patient started to show symptoms. ... Here in Minnesota it was one year ago, Feb. 25, 2020, and I recognize our lives have changed dramatically."
Walz acknowledged that during that time there has been tragedy, with more than 6,000 dead and nearly half a million people having contracted COVID in Minnesota.
"We stood in front of you and asked, let's fight this thing together," he said. "I can remember saying, 'At some point in the future there will be a vaccine.'"
Walz said because of the steps Minnesotans have taken to keep one another safe, the situation is improving.
"Our case numbers are dropping, they are dropping rapidly," Walz said. "Our death numbers are dropping rapidly. ... That's because of sacrifices that people have made, that's because of masking, and that's in no small part because of the vaccine."
By the end of March, vaccinations are expected to be completed in Minnesota's long-term care facilities.
"Here's the deal, it's working," Walz said. "The vaccine is working even better than we could have hoped for at one point in time."
Walz said on Thursday that by the end of May, about 98% of all Minnesotans for whom COVID poses a serious risk should be vaccinated. He also pointed out that depending on vaccine supply, all of the timeframes the state laid out could move faster.
Minnesota House Republicans issued a statement in response to Walz's Thursday announcement, saying in part, "Today's news is a step in the right direction, and we appreciate that he is finally committing to prioritizing those who are most vulnerable to this disease. Vaccinating our seniors will lead to a dramatic drop in deaths and should allow us to continue safely reopening our economy in the coming weeks as cases and deaths continue to drop." The statement went on to say that Walz has sent "mixed messages" and "needlessly complicated" the rollout.
To see more of the original story and related COVID-19 reporting, follow this link to the KARE 11 News website.  https://www.kare11.com/article/news/health/coronavirus/minnesota-governor-walz-vaccine-eligibility-e...