Latest on COVID-19 in MN: Cases spike in SW Minnesota; statewide death toll now at 121
Apr 17, 2020 05:34AM ● By Editor
Gov. Tim Walz listens as Minnesota Health Commissioner Jan Malcolm speaks during a news conference on Friday. Walz provided an update on the state's response to COVID-19 and confirmed cases have surfaced at JBS Pork processing plant in Worthington, Minn.  
Photo: Christine T. Nguyen | MPR News
By MPR Staff from the Minnesota Public Radio News - April 17, 2020

GMinnesota health officials said Saturday that 10 more people in the state have died from COVID-19, bringing the statewide death toll to 121.
Meanwhile, more than 140 new confirmed cases were reported Saturday, bringing the statewide total to 2,213 — though officials say continued limitations on testing mean the actual number is much higher.
The increase in new cases includes a jump from 12 to 36 confirmed cases in southwestern Minnesota's Nobles County, home to the JBS pork processing plant in Worthington that has seen an outbreak of coronavirus.
Confirmed COVID-19 cases in Nobles County, home to Worthington
David H. Montgomery | MPR News
The JBS plant is the city's largest employer with more than 2,000 employees. The union representing workers at the plant said Friday that at least 19 employees have tested positive for COVID-19, and the union called on executives to slow down production so that workers can maintain safe social distancing. 
The latest coronavirus statistics as of Saturday:
2,213 cases via 44,368 tests

121 deaths

561 cases requiring hospitalization

239 people remain in the hospital; 111 in ICUs

1,118 patients recovered
New COVID-19 related deaths reported in Minnesota each day
David H. Montgomery | MPR News
State health officials said nine of the 10 deaths reported Saturday were residents of long-term care facilities. About a quarter of confirmed COVID-19 cases in the state have been linked to group-care facilities, among either residents or staff.
The deaths reported Saturday included eight Hennepin County residents — one in their 50s, two in their 60s, two in their 70s, two in their 80s and one in their 90s. The others were an Anoka County resident in their 70s, and a St. Louis County resident in their 80s.
Some outdoor activities resume
Saturday marked the first day that golf courses, outdoor shooting ranges, lake service providers, bait shops and marinas could all open again as Gov. Tim Walz lifted some restrictions on outdoor activities included in his stay-at-home order. 
Walz, however, warned against a false sense of security about the coronavirus' spread in the state as he confirmed new cases tied to a massive pork processing plant in southwestern Minnesota.
"We've done so well and that might be a double-edged sword for us," the governor said Friday. "I'm just afraid people are ready to bust out and this thing spikes up."
A graph showing the number of COVID-19 positive cases to date.
David H. Montgomery | MPR News
The closeness of the announcement on new cases and deaths on Friday, and the announcement on easing of outdoor restrictions, clearly showed the difficult balance officials are trying to strike as they work to manage the disease's spread while trying to slowly return normalcy to parts of daily life.
While Republicans and Democrats have been fairly united in the state's response to COVID-19, political rifts are continuing to grow. A pro-Trump crowd rallied outside the governor's residence Friday afternoon, urging Walz to reopen the economy and lift his stay-home orders, hours after President Trump tweeted "Liberate Minnesota!"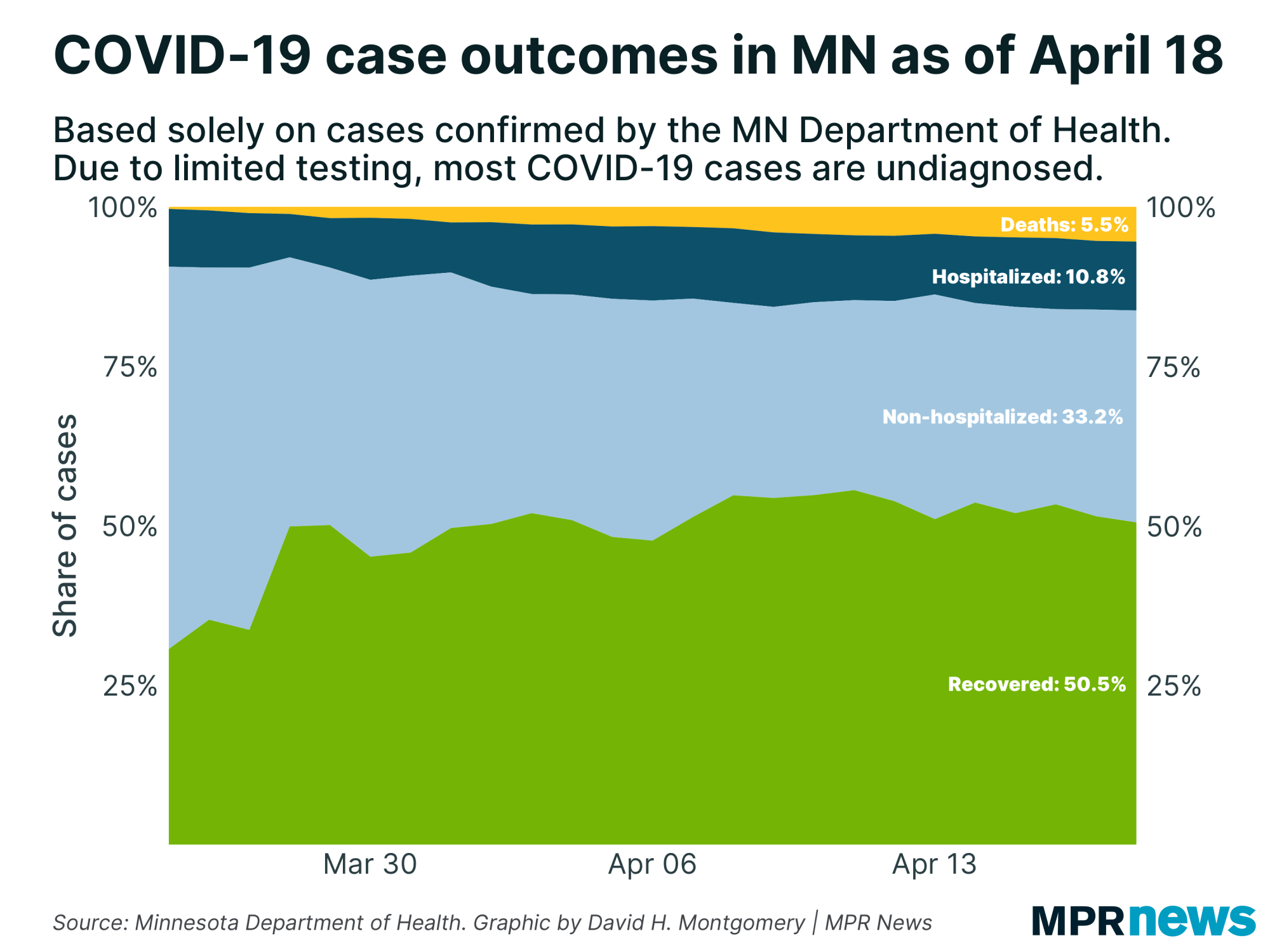 A graph showing the percentage of cases tested and their current status.
David H. Montgomery | MPR News
Speaking to AARP members on a call, Walz said that as a member of the National Guard, he's fought to preserve American freedoms, including freedom of assembly, but that the crowd of protesters was putting people at risk of the disease, including health care workers battling COVID-19 daily. 
"They're not protesting me," Walz said. "They're protesting the idea that we have to protect these front-line workers."
Developments from around the state
Metro Transit suspends all overnight light rail service
Metro Transit says it will suspend nighttime light rail service beginning Saturday morning. The transit agency said on Thursday that Green and Blue lines will stop for the night at 9 p.m. and start again at 6 a.m. 
The Blue Line between Terminal 1 and Terminal 2 at the Minneapolis-St. Paul International Airport will continue running overnight.
— MPR News staff
Majority of MN child care providers wait on 'not nearly enough' state funding
Nearly 70 percent of Minnesota's child care providers have applied for state grants available through the COVID-19 rescue plan.
Child Care Aware of Minnesota is administering $30 million in funding that the Legislature approved last month. At a House committee hearing Thursday, executive director Ann McCully said the organization received 6,000 applicants — but there is only funding for just over 1,000 of them.
"There is just so much need out there, even when we try to zero in on helping our essential workers," she said. "We are excited to be able to at least help those programs that will receive grants, but we know it will not be nearly enough."
The child care industry has been hit hard by the pandemic. Many child care providers have closed as more families stay home with their children. Some providers are concerned they may not be able to reopen.
— Riham Feshir | MPR News
Jobless report shows 'leading edge' of virus' impact
It'll be another month before the massive layoffs due to COVID-19 are reflected in Minnesota's unemployment figures.
On Thursday, the state reported the seasonally adjusted unemployment rate for March remained at 3.1 percent, unchanged from February. The statistics were gathered before a wave of layoffs began in the middle of March. 
More than 450,000 people have applied for unemployment assistance since March 16. Thursday's report shows only "the leading edge" of coronavirus unemployment impact, said Steve Grove, commissioner of the Department of Employment and Economic Development.
The report for April, which is due on May 21, will capture the brunt of the employment downturn. Even before that, the state says the labor force had shrunk by 48,000 people between February and March in a workforce pool that was slightly below 3 million people. Nationally, the unemployment rate for March was 4.4 percent.
— Brian Bakst | MPR News
---
Top headlines
Walz signs bill to allow beer and wine takeout sales: Under the new measure that takes effect this Saturday, customers can purchase one bottle of wine or up to a six-pack of beer, cider or hard seltzer with their food. Other alcoholic beverages are not included. 
A look at the data that's helping Minnesota plan its COVID-19 response: Gov. Tim Walz and other state officials are using a model from the Minnesota Department of Health and the University of Minnesota to predict the health impacts of COVID-19. But with data so uncertain, the model doesn't predict one future so much as many. Researchers shared data from 100 of their thousands of simulations with MPR News — a randomly chosen 50 simulations from two specific scenarios.
7 Midwest states to partner on reopening the economy: Seven Midwestern governors, including Minnesota Gov. Tim Walz, announced Thursday that they will coordinate on reopening their state economies, after similar pacts were made in the Northeast and on the West Coast. The latest agreement includes Minnesota, Illinois, Ohio, Michigan, Indiana, Wisconsin and Kentucky.
Caregivers try to maintain routines in an abnormal time:Caring for those with dementia can be an all-consuming and isolating job. But in the era of the coronavirus, it has become even more difficult.
---
COVID-19 in Minnesota
Health officials for weeks have been increasingly raising the alarm over the spread of the novel coronavirus in the United States. The disease is transmitted through respiratory droplets, coughs and sneezes, similar to the way the flu can spread.
Government and medical leaders are urging people to wash their hands frequently and well, refrain from touching their faces, cover their coughs, disinfect surfaces and avoid large crowds, all in an effort to curb the virus' rapid spread.
The state of Minnesota has temporarily closed schools, while administrators work to determine next steps, and is requiring a temporary closure of all in-person dining at restaurants, bars and coffee shops, as well as theaters, gyms, yoga studios and other spaces in which people congregate in close proximity.
To read the original article and see related COVID-19 reporting, follow this link to the MPR News website.  https://www.mprnews.org/story/2020/04/17/latest-on-covid19-in-mn