Latest on COVID-19 in MN: 34 dead, 64 in ICU; total cases leap above 1K
Apr 07, 2020 05:58AM ● By Editor
A woman wears a face mask as she walks around Normandale Lake with a dog Monday in Bloomington.   Photo: Jim Mone | AP


From Minnesota Public Radio News - April 7, 2020

Deaths linked to COVID-19 in Minnesota rose to 34, up four from Monday, with 64 people now in intensive care. The total number of cases jumped to 1,069, up 83 from Monday, the state Health Department said Tuesday.
It was the largest single-day jump in Minnesota cases since the first case was confirmed just a month ago. In the past week, the number of intensive care patients has more than doubled while the count of dead has nearly tripled. 
Speaking to reporters Tuesday afternoon, Gov. Tim Walz said there were "pretty strong indications" that state efforts to keep people publicly distanced was helping manage the disease's spread so it doesn't overwhelm the health care system.
He also noted the difficulty of people staying apart as major religious holidays approach. "I know this is very challenging."
Walz is expected to decide by Wednesday whether to renew the state's stay-at-home order. But as the number of COVID-19 cases and deaths continues to climb, the governor indicated at least some restrictions will continue after Friday. 
Minnesota has one of the lowest per-capita coronavirus infection rates in the country; in just over half the state's total cases, people have recovered to the point where they no longer need to be isolated. 
Walz, though, said leaders are still preparing for a surge of hospitalizations. "We might end up with more hospital beds than we needed, but that is a much better situation than winding up with too few," he said.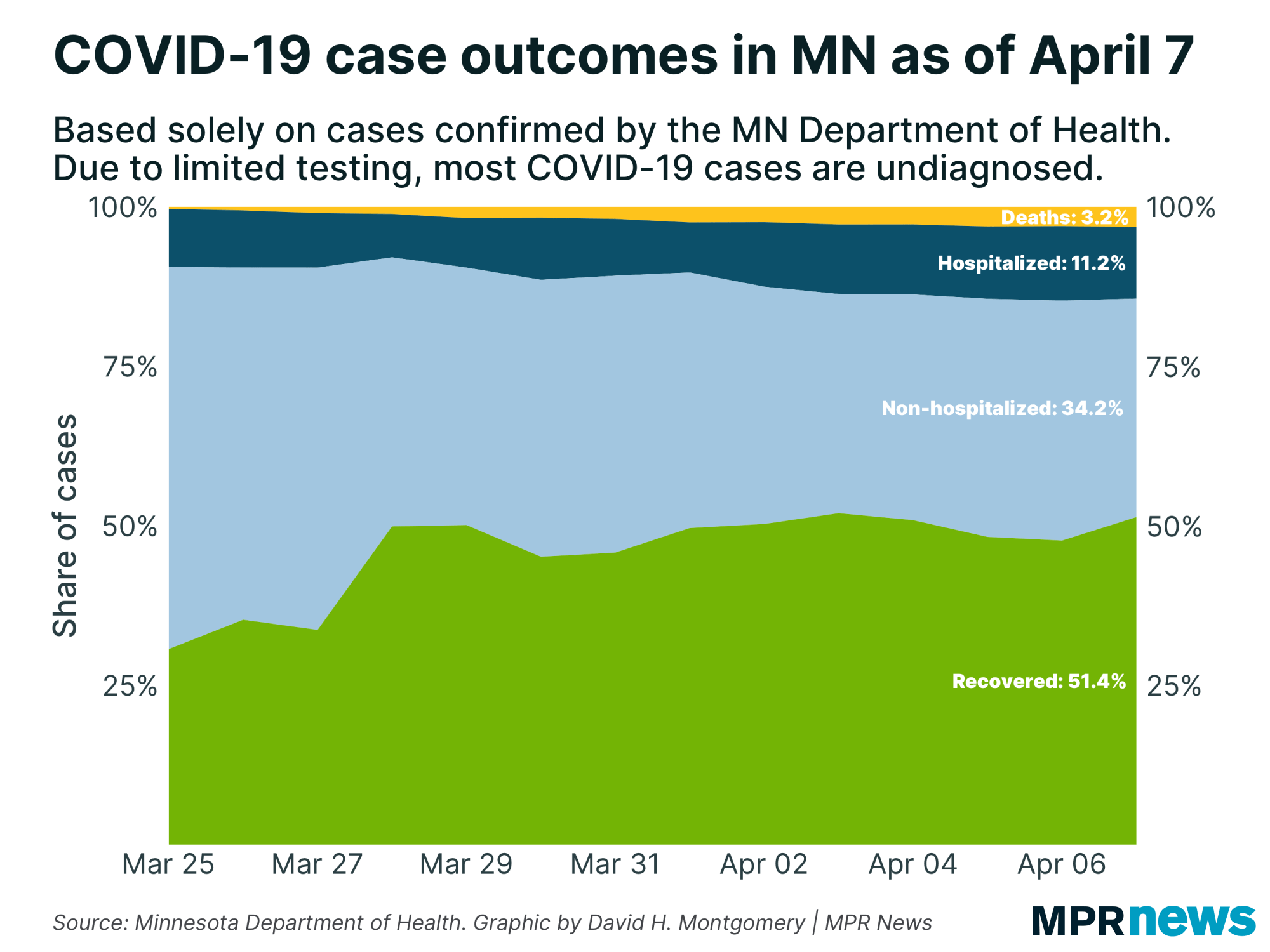 Sixty-four of 87 Minnesota counties have at least one confirmed case. That now includes Roseau and Swift counties. 
State officials have identified more than two dozen sites that could become makeshift hospitals and accommodate about 2,700 beds, Joe Kelly, the state's emergency management chief, said. He said he's hoping to get some of those sites prepared soon. 
Beyond the updates on cases and deaths, the Health Department Tuesday noted:
Among those who have died in Minnesota, ages run from 58 to 100. Of the four newly disclosed deaths, two were in Hennepin County with one each in Winona and Dakota counties.

More than one-third of COVID-19 cases are now considered to have originated from community spread, the greatest likely source of exposure to this point.

Martin County on the Minnesota-Iowa border continues to account for the largest number of cases outside of the Twin Cities metro area and Rochester. The county has seen 34 cases and four deaths.
Despite the bleak numbers, Health Commissioner Jan Malcolm said a key metric — Minnesota's rate of doubling of COVID-19 cases — has slowed. Case counts were doubling every one or two days before March 18; now they are doubling very eight days.
Beyond the medical crisis, officials also continue to work through the steep economic problems the disease has triggered for household and state government budgets.
Steve Grove, commissioner of the state Department of Employment and Economic Development, said the state's received 355,108 applications for unemployment benefits — about 11.4 percent of Minnesota's total labor force. Grove said his agency was getting about 800 calls an hour for help on Monday.
---
Developments from around the state
Minnesota opens hotline to report bias tied to COVID-19
Minnesota has set up a hotline — 1-833-454-0148 — for people to report incidents of discrimination related to the COVID outbreak. People can also report bias tied to the pandemic using a form at the Department of Human Rights website.
Asian Americans in Minnesota and across the country say they've been subject to rising levels of discrimination during the pandemic given the early epicenter of the outbreak in China. 
It's important to document these incidents, even if they don't rise to a level of a hate crime, said Bo Thao-Urabe, head of the Minnesota-based Coalition of Asian-American Leaders.
Officials still urge victims of hate crimes and violence to call the police. The FBI has warned of a likely surge in hate crimes against Asian Americans.
— MPR News Staff
Legislature back in session Tuesday for workers' comp bill
The Minnesota Legislature will come into session Tuesday to vote on the latest bill tied to the coronavirus pandemic. 
The bill provides first responders and medical workers access to workers' compensation payments if they contract COVID-19 and are unable to keep doing their jobs. It covers firefighters, paramedics, nurses, doctors and care providers in hospitals, clinics or other health settings. Correctional officers are also eligible.
If the Legislature passes the bill, it would take effect immediately.
Negotiations had been occurring for more than a week, and Gov. Tim Walz said he was prepared to extend the coverage through executive order if lawmakers couldn't come to agreement.
But the deal struck over the weekend has the backing of DFL and Republican legislative leaders.
Lawmakers are expected to take precautions and keep Capitol attendance as low as possible during the session that starts at noon for the House and 2 p.m. for the Senate.
— Brian Bakst | MPR News
---
Top headlines
Minnesota's stay-at-home order encourages getting outside, but how far away? Outdoor activities like fishing, hiking and biking are explicitly allowed under Minnesota's stay-at-home order. But that order also limits nonessential travel. So, just how far can people travel to get outside?
Martin Co. pastor adjusts ministry amid coronavirus: This year, Holy Week comes almost exactly a month after Minnesota confirmed its first case of COVID-19, and several weeks into subsequent social distancing guidelines and stay-at-home orders. For St. James and many congregations, a time of reunion has become a time of separation.
ICE detainees express fear, anxiety as COVID-19 spreads in Minnesota: Five detainees, who spoke to the Sahan Journal via videophone from inside the jail, said social distancing is impossible.
Nursing homes on the front line of limiting coronavirus spread among Minnesotans: More than half of the Minnesotans who died from the respiratory illness lived in group care facilities. As of Monday, there are 90 residents and 36 staff in long-term care facilities with confirmed COVID-19 cases. Seventeen people in long-term care settings have died from COVID-19.
---
COVID-19 in Minnesota
Health officials for weeks have been increasingly raising the alarm over the spread of the novel coronavirus in the United States. The disease is transmitted through respiratory droplets, coughs and sneezes, similar to the way the flu can spread.Government and medical leaders are urging people to wash their hands frequently and well, refrain from touching their faces, cover their coughs, disinfect surfaces and avoid large crowds, all in an effort to curb the virus' rapid spread.
The state of Minnesota has temporarily closed schools, while administrators work to determine next steps, and is requiring a temporary closure of all in-person dining at restaurants, bars and coffee shops, as well as theaters, gyms, yoga studios and other spaces in which people congregate in close proximity.
To read the original article and see related COVID-19 reporting, follow this link to the MPR News website.  
https://www.mprnews.org/story/2020/04/07/latest-on-covid19-in-mn