The latest on COVID-19 in Minnesota: Latest on COVID-19 in Minnesota: 10 dead, 24 in ICU; cases jump to 576
Mar 29, 2020 05:46AM ● By Editor
Minnesota Gov. Tim Walz signs a bill Saturday morning, allocating $330 million in COVID-19 aid passed by the state Legislature on March 26, in St. Paul. Walz is under a 14-day quarantine and is working from the Governor's Residence.   Photo: Glen Stubbe | Star Tribune via AP, Pool


From Minnesota Public Radio News - March 30, 2020  

Minnesota now has 10 deaths linked to COVID-19, up from nine on Sunday, with 24 patients in intensive care. The number of total cases jumped to 576, 
officials said Monday.
During their Monday afternoon briefing with reporters applauded Minnesotans for complying with his two-week, stay-at-home order, saying it was working. "Minnesotans are doing this," Gov. Tim Walz said. "You're getting it right."
Besides the update on cases and death, the Health Department Monday said 56 people are currently hospitalized; 260 people who had the disease are recovered and no longer need to be isolated.
Officials say they are working now to build out space across the state that could accommodate a surge of COVID-19 patients. The goal is to add 2,750 beds, with 1,000 of those in the Twin Cities metro area. Potential sites for those operations are being scoped out now, but the state isn't ready yet to announce them, said Joe Kelly, the state emergency management director.
Walz said the state continued to secure masks and other personal protection equipment it will need as the cases escalate toward their peak. "If the peak would hit us now, no we do not have enough," he said, noting the state's effort to delay the peak and buy more time for preparation.
More than half of Minnesota's counties, urban and rural alike, now have confirmed cases of COVID-19 as the state moves into its first workweek of stay-at-home orders. 
Walz's stay-at-home executive order went into effect over the weekend and will remain in place until April 10. It's a ramping up of social distancing measures that had already been in place, and states that all people who can work from home should do so. 
The Minnesota Department of Transportation reported that statewide, traffic volumes were down 30 percent on Friday and 55 percent on Saturday, compared to the same time last year. Saturday's traffic volume in the Twin Cities metro area was down 59 percent.
The state's long-term care facilities remain a primary concern amid the coronavirus outbreak. Officials said seven of the nine people who died in Minnesota as of Sunday were residents of those care facilities.
State officials also acknowledged Minnesota's first cases of the virus spreading from hospitalized patients to health care workers. Of 157 health care workers testing positive for COVID-19, two came as the result of spread from patients, said Kris Ehresmann, the state's infectious disease director. That still-low number is reassuring, she added.
---
Case totals in neighboring states
While Minnesota stood at 503 confirmed COVID-19 cases as of Sunday, Wisconsin had more than double that total — 1,112 cases, with 13 deaths. Wisconsin and Minnesota have tested roughly the same number of patients, according to state data.
To the south, Iowa reported 336 cases and four deaths.
To the west, South Dakota reported 90 confirmed cases and one death as of Sunday. North Dakota reported 98 confirmed cases and one death.
— MPR News staff
Assigning days for unemployment applications
The Minnesota Department of Employment and Economic Development reported Sunday that it is processing a record number of unemployment insurance applications.
It's asking that new applicants follow a system to apply on a designated day, depending on the last digit of their Social Security number.
If the last digit is a 0, 1 or 2, applications should be filed on Mondays. For 3, 4 or 5 —- Tuesdays. 6, 7, 8 or 9 — Wednesdays. And Thursdays and Fridays remain open to any number.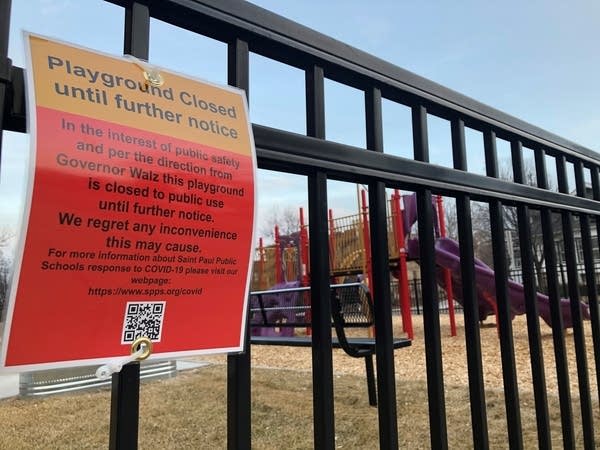 A closure sign on the playground at Global Arts Plus in St. Paul on Thursday.  Photo: Megan Burks | MPR News
Creating safer spaces for outdoor activities
Minnesota's statewide stay-at-home order allows for outdoor recreation, as long as people abide by social distancing rules. And some cities are taking steps to make that easier.
The Minneapolis Park and Recreation Board has cut off vehicle traffic along most of West River Parkway between Plymouth Avenue North and 11th Avenue South. It has also blocked vehicle traffic across the Mississippi River on portions of Main and Merriam streets. 
The temporary closures, slated to remain in effect until April 10, are aimed at providing more space for pedestrians in those areas.
Also in Minneapolis, city officials said they are "enhancing" the bikeway along Plymouth Avenue North, as well as improving spaces for biking and walking along West 36th Street between Dupont Avenue and Bde Maka Ska, and 26th Avenue South between Ninth Street and Franklin Avenue.
To the north in Duluth, city officials have closed off vehicle access to a mile-long section of Seven Bridges Road and a half-mile section of Lincoln Park Drive, creating more space for pedestrians and bicyclists. They've also cleared snow off a one-mile section of the Willard Munger State Trail.
"The level of crowding observed on the Lakewalk last weekend (March 21-22) makes it difficult for residents to maintain the six-foot separation necessary to prevent transmission of COVID-19," Duluth Parks and Recreation Manager Jessica Peterson said in a news release. "We have made additional trails available so that residents can recreate without endangering public health."
Some cities, including Rochester, have closed tennis courts, basketball courts and playgrounds to limit group gatherings.
"We want people to be comfortable enjoying the outdoors and getting some exercise," Paul Widman, director of parks and recreation for the city of Rochester, said in a news release. "Take advantage of the spring weather but do so smartly and at a safe distance from others."
— Andrew Krueger | MPR News
Plumbers, electricians still on the job
Plumbers, electricians, and heating and cooling contractors are continuing to work across Minnesota during the coronavirus pandemic, completing repairs for homeowners and businesses. They're among the jobs exempt from the state's stay-at-home order.
Scott Williams is co-owner of Bisbee Plumbing and Heating in Marshall, Minn. He said he was busy two weeks ago as homeowners and businesses scrambled to get projects done. Last week, he said, he saw more cancellations.
"This week it's quieted down some," he said. "A lot of cancellations with people saying, we don't want you to come into the house. A lot of that."
Williams said the plumbers in his business are taking care to wash hands, keep social distance, and generally limit exposure while doing repairs. 
— Emily Bright | MPR News
Free grocery delivery for Metro Mobility customers
Metro Mobility has started delivering grocery orders to its Twin Cities customers in an effort to keep those customers and drivers safe during the COVID-19 pandemic. 
The free service launched last week. Metro Mobility customers can place an order at a grocery or pet store online, then schedule pick-up and delivery with Metro Mobility. 
Nick Thompson is director of transportation at the Metropolitan Council. He said the service will help customers with health concerns or disabilities get groceries while also limiting drivers' possible exposure during trips. 
"A lot of our customers at Metro Mobility are identified as part of that vulnerable population, so this protects them (and) lets them stay safe at home," he said.
Thompson said the service also provides a financial boost to customers.
"They would generally pay a fare to get a ride to the grocery and a fare to get home and with this service, there's no cost to them," he said. "So they're saving a little bit of money, too, that they can put toward groceries."
The Metropolitan Council expects that hundreds of customers will take advantage of the grocery delivery service. 
— Jon Collins | MPR News
To read the original story and more COVID-19 reporting, follow this link to the MPR News website.  https://www.mprnews.org/story/2020/03/28/latest-covid-19-minnesota-stayathome-order-takes-effect-cas...