Artists invited to spend time this summer creating in Quetico Provincial Park
Feb 28, 2020 09:07AM ● By Editor
Submitted photo
From Quetico Provincial Park - February 28, 2020
A quaint cabin on the shores of French Lake is available again this summer for Canadian and international artists who wish to seek inspiration in the wilderness. For the 14th year, Quetico Provincial Park will host artists working in any media whose work relates to nature.

​In addition to the cabin, wilderness permits and other fees are waived for the artist (and one guest) for up to 12 days. Artists can choose to stay and work at the cabin, or explore the park, or use other accommodations.
The program is a partnership between the park and the Quetico Foundation, which helped restore the French Lake cabin and continues to support the residencies.
"Art inspired by a Quetico experience can enhance connections between the park and the public through its various forms," the Quetico Foundation says. "The art provides a means for those who visit the park to appreciate it on a deeper level and for those that do not venture into the park wilderness to experience it vicariously."
In exchange for the accommodations, artists are asked to share one piece of art with the park, and present a public workshop, reading, or other program. Artists can also donate a piece of art to the Quetico Foundation for its fundraising purposes, and receive a $300 honorarium in return.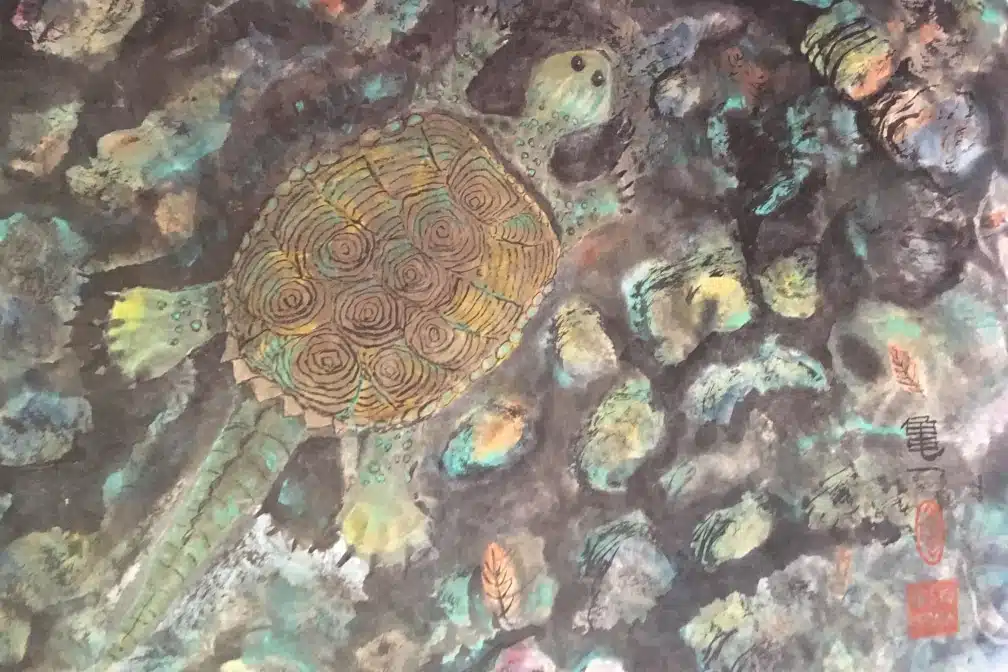 Chelydros,sumi-e painting, 2019 by Quetico Foundation Artist in Residence program recipient, Tom McCann 
Last year's artists-in-residence included Tom McCann, a printmaker who used his time to learn about snapping turtles in the park's library. It influenced his understanding of the creatures, and his artistic ambition.
"Tom believes more turtle art will benefit the animal and inspire others to learn more about snapping turtles and help them," the Quetico Foundation reports. "Before Tom came to Quetico, he says his perception of snapping turtles was guided by common misconceptions. He believed they were dangerous to everyone. In Quetico Tom realized, they are only a danger to people who are misinformed about them."
In 2018, the program's first writer, Heather O'Connor, used the cabin to write and conducted research in the park's Ripley Library.
She described a peaceful existence in a blog post for Ontario Parks:
"My cabin's raised balcony and broad windows overlook the lake. It's where I write, letting the sun toast my skin.

"Most days, the sky is so blue and water so still that a perfect mirror-image is reflected on the surface. Only the insolent backflip of a fish disturbs it."
Emerging artists from the surrounding region, including Ontario, Manitoba, and the United States' Midwest, and aspiring artists from northwestern Ontario are particularly encouraged to apply.
Artwork provided by artists-in-residence is displayed at the park's Heritage Pavilion.
Artists are selected by a committee comprising representatives of the Quetico Foundation, Thunder Bay Art Gallery and Quetico Provincial Park.