Give A Holiday Gift To Boreal and Get "The Lake and Stars"

Dec 06, 2017 08:37AM ● Published by Editor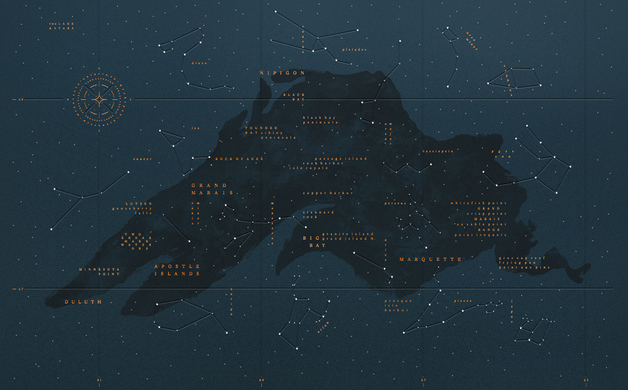 Created by Boreal's design partner - Studio MPLS - "The Lake and Stars" is a limited edition poster you will be proud to hang on your wall to celebrate your love for the Big Lake and our Dark Skies.
The inspiration for "The Lake & Stars" was to abstract a map of Lake Superior and its surrounding landmarks with an overlay of a segment of the universe, blending the Great Lake with a Starry Sky.
The lines connecting the constellations and the parallels are blind debossed; the locations around the lake and the constellations are foil-stamped copper; the stars are pale matte silver foil; the lake is screen-printed from an original hand-painted piece. Printed on French Midnight Blue 100# in collaboration with Vahalla Studios and McIntosh Embossing. Dimensions are 18 x 12".
For a $75 and up donation to the Boreal Holiday Fund Raising Drive, the poster will be yours.  It is a perfect holiday gift to any family member or friend who loves the North Shore.  Available on a first come, first served basis.  Limited quantities available.  Send your donation today!

Our thanks to Studio MPLS founder and North Shore cabin owner - Dan Olson - and his talented team for making this special poster available to Boreal supporters.
We rely on community members for their financial support in order to continue providing the services you and others depend on.
This holiday season we ask you to consider gifting Boreal a tax-deductible donation to Boreal Community Media.  We are a non-profit organization, with a dedicated staff and volunteers who keep residents and visitors alike connected across Cook County, the Arrowhead region and greater Minnesota.

If you are interest in receiving The Lake and Stars poster, please specify and mail your donation to:

Boreal Community Media
P.O. Box 1269
Grand Marais, MN 55604

Or email your donation pledge and we will follow-up with you for payment:  Email your donation to donate@boreal.org

We proudly serve our community and humbly thank you for your holiday gift of financial support. Please support Boreal to help keep our community connected.
You can see our holiday fund drive mailer as the attached pdf.

About Dan Olson 
Dan Olson Founder, Creative Director, Studio MPLS
Dan Olson is the founder and creative director of Studio MPLS. With over thirty years of industry experience, he is responsible for some of the most highly awarded and widely recognized design work in the world, including global initiatives for brands like Coca-Cola, BMW, and Sony. A true Northerner in every way, Dan is a lifelong resident of Minneapolis and enjoys spending time at his Lake Superior cabin with his dog, Tom.
Local Life