Hovland and Regional artisan crafters Christmas Show

Nov 14, 2017 09:53AM ● Published by Editor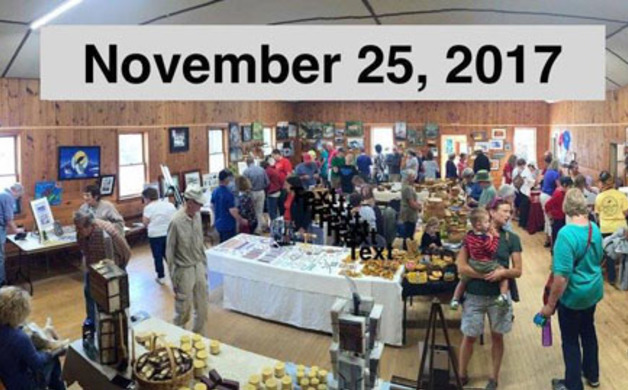 The article first appeared on lakesuperiornews.com
HOVLAND, MINNESOTA  -  November 13, 2017   (LSN)  Chestnut roasting on the open fire.  Jack Frost nipping at the nose.    The festive holiday season is descending upon us once again with its nose chills and creative holiday warmth.  
Once more our local Hovland and regional artisan crafters are gearing up for another pre-Christmas sale of their fine and exquisite handiwork and wares.  
This annual winter HAF (Hovland Arts Festival) event will be held at the Hovland Town Hall in Hovland, MN, 4957 E. Highway 61 on November 25th from 10am-4pm.   
Start this festive event off by getting the taste buds ready for tasty treats by Sandra Virginia of Sanvi's Sweets.  Once fortified by her delectables it's time to move on to enjoy some leisurely holiday browsing and shopping while chatting with friends old and new.  Take your time to enjoy some slow paced holiday country warmth.
Let the browsing and shopping begin with the wonderful variety of artisan crafters featured this year.  Local potters Joan Farnam and Bob Tamanaha  have great practical but unique gift ideas.  Each has their own distinctive style and offerings.  
Our two talented local photographers Hella Buchheim and Sandra Updyke share their love of nature photography through prints, cards and the like.  'Tis the season for Christmas wreaths and tree ornaments.  Julie Kean brings her own special touch of nature with her wreaths and birch bark ornaments.
Let there be light and cozy in this wintry wonderland season!  Linda Newman's beeswax candles will brighten up any festive occasion.  What could be more wintry than getting the chance to meet and greet first hand one or two of Linda's Points Unknown sled dogs.  Nikki McCourt will bless all with her cozy crocheted handcrafts. 
There's no place like gnome.  Mary Jo Flack will have her "gnomes with a re-purpose" along with many other ornaments and such she has created using re-purposed and other materials found from nature.  Terry Lewis's kiln fired glass ornaments, chimes and jewelry will surely give one purpose in Christmas gift shopping ideas.
Bruce Updyke and Jacob Carr  bring their fine woodworking craftsmanship to this season's holiday table.  From practical home and kitchen items to other unique decorative wares one won't be disappointed. 
In true Native American tradition Marcie McIntire will grace all with her exquisite bead and leather-work.  With  Dwayne Wabegijig will feature stunning artwork of Canadian First Nation's paintings. 
A little something for everyone.  Come enjoy a warm down-home country shopping experience.  Support your local artisans.  You won't be disappointed.

The annual Christmas Hovland Arts Festival will be held on Saturday Novemer 25th. The event takes place in and outside the Hovland Town Hall from 10 am to 3 PM (Central Time)  (highway 61, milage marker 128.6, 18 miles east of Grand Marais, and 15 miles south of the US/Canadian Border).
By MJ Flack
HAF
Hovland, MN
Arts+Culture