Dead cougar found near Thunder Bay starved to death, pathologist says

May 04, 2017 08:21AM, Published by Editor, Categories: Outdoors
---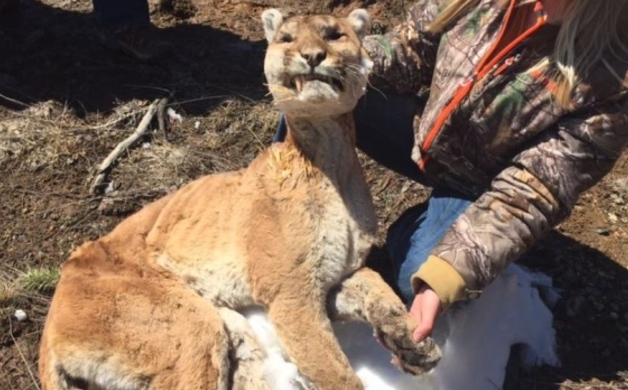 ---
The cougar found dead last March on a bush road northwest of Thunder Bay, Ont., died of starvation, according to a pathologist with the Canadian Wildlife Health Cooperative.
The animal was seriously emaciated and had no food in its stomach, said Doug Campbell, who did a necropsy on the carcass.
But he notes the animal's brush with a porcupine took a toll.
"It had a few porcupine quills in its mouth and in its digestive tract, which suggest it had tried to eat a porcupine, and which would probably not be a normal items for it," Campbell said. 
"But there was no evidence of other recent food consumption."
Mandi Weist compares her hand to the paw of the dead cougar she and a friend found off Boreal Road, northwest of Thunder Bay March 25, 207. (photo credit: Mandi Weist)
The cougar showed no other sign of disease or injury, Campbell said.
While Campbell did the necropsy, he was not tasked with doing genetic work to identify whether the animal was wild or domestic, he added.
 .
The Ministry of Natural Resources and Forestry is sending genetic samples of it to a cougar genetics specialist in Montana for DNA testing, a spokesperson told CBC. 
Mandi Weist, her boyfriend, and some buddies were among those who discovered the cougar carcass near the Boreal Road in March, potentially resolving a decades-old debate over whether the animals inhabit northwestern Ontario.
Many people have reported sightings, but, until now, nobody had produced an animal, dead or alive, as evidence of their presence.
Weist and her companions knew they had to contact the Ontario Ministry of Natural Resources and Forestry (OMNRF) about their find. she said.
They also brought the cat to Boreal Tales Taxidermy, where taxidermist Dan Cavicchiolo removed an estimated 50 to 75 porcupine quills.
The front half of the cougar that had been frozen in the snow seemed to be well preserved, Cavicchiolo said, but the back half showed more decomposition.
The animal had long claws and good teeth, but was emaciated and had muscle atrophy, he said.
"It was in really bad shape when I skinned it – very thin," he said. "It weighed about 80 pounds, but it was all skin and bones."
---
---