Lion King Jr. at the Playhouse

Apr 20, 2017 08:14AM, Published by Anne Brataas, Categories: News
---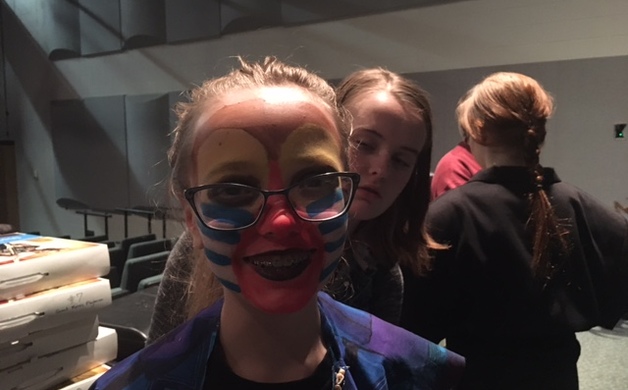 ---
The Grand Marais Playhouse performance of Lion King Jr., continues today, Saturday April 22, with a 7 p.m. performance, a matinee tomorrow at 2 p.m., and  a Friday-Sunday series next weekend.
The Wednesday April 19  dress rehearsal of Lion King Jr .(see photo of Roth sisters, Amelia and Greta, preparing)  — began with a reminder and a question.
"The only thing we are here for today is to tell a story, " said Director Sue Hennessy, playhouse artistic and technical director, as she reminded her Cook County youth cast of their highest priority. "And who are we telling the story to?"

"The back row!" rang the enthusiastic choral response from her actors.

Gratified by their confident poise, Hennessy reviewed the basics of diaphragmatic breathing, then ticked down her punch list of loops to close before Friday's opening.

"Birds! Can I have you come up please?"
"Scene changers! You're on your own."
 "Those with microphones, see me in back."
 As the sound check and microphone fitting progressed, the performance machine this troupe of actors has become began to whirr. Stripes appeared on faces of children-now-animals; an elephant trunk bobbed; an elongate cardboard giraffe neck swayed; a leaping gazelle pirouetted with her partner to create an African savannah on the shores of Lake Superior.
Tickets are $10 adults and $5 under 18.

For information and tickets contact:  (218) 387-1248, and Email: playhouse@boreal.org
Website: http://grandmaraisplayhouse.com  and https://arrowheadcenterforthearts.tix.com/Event.aspx?EventCode=961230
---
---