MN DNR Conservation Officer Reports

Apr 19, 2017 11:23AM, Published by Editor, Categories: Outdoors
---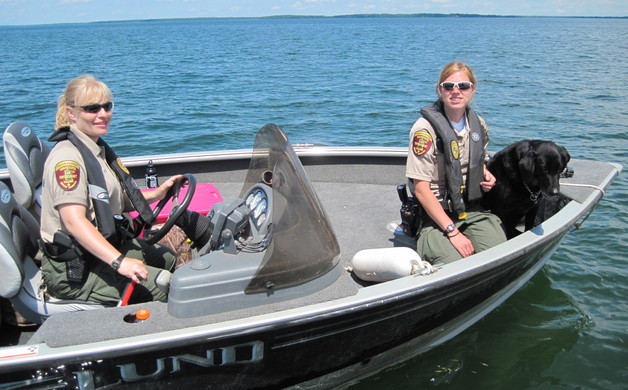 ---
CO David Schottenbauer (Silver Bay) worked area rivers for angling activity this week and monitored spring trapping activity. Time was also spent at Camp Ripley for safety training.

CO Thomas Wahlstrom (Tofte) spent the week checking anglers along the North Shore streams. The officer attended training at Camp Ripley, checked border lakes, and followed up on complaints.

CO Don Murray (Two Harbors) worked stream trout fishing and spring beaver trapping activity during the week. Anglers were having good success and the warm temperatures were enjoyed by all. A shoreline complaint was followed up on an illegal dumping case is being investigated.
CO Sean Williams (Ely 1) reports ATV use continues to be very high and most active patrol has been focused on areas just outside of the city. The first open water anglers of the year were checked, and although the report wasn?t good, they were just happy to be in the boat. Violations included operating an ATV with more than one passenger and operating an ATV with a juvenile passenger with no helmet.

CO Mary Manning (Grand Marais East) attended annual Enforcement Safety Training and Awards at Camp Ripley. She also patrolled area WMAs and State Parks in addition to checking anglers on Lake Superior tributaries. Closed sanctuaries on tributaries were also patrolled. The officer responded to an ATV complaint in the Silver Bay area and reminds riders to check online and at trailheads before heading out as most trails in the northeast are currently closed to allow things to dry properly.

CO Marty Stage (Ely) attended training at Camp Ripley and kept watch for the spawning walleyes in the creeks. Spawning activity has been fast and furious the past couple nights. The ice is essentially gone on all the lakes.  

CO Darin Fagerman (Grand Marais) attended an awards ceremony and training at Camp Ripley during the week. Backroads that were impassable during the first part of the week are now mostly clear of snow. Many of those roads have trees down across them from the winter. North Shore rivers and inland lakes were checked.

CO Anthony Bermel (Babbitt) worked a busy week of ATV, angling, and fish run enforcement, as well as attending training. Hopefully the last snowmobile enforcement action for the year was taken stemming from a water skipping complaint on a local pond. Enforcement action for the week included fishing without a license, unregistered ATVs, operating on a closed trail, no ATV safety certificates, fail to display snowmobile registration, and fail to transfer snowmobile ownership.

---
---