Medical students' study addresses closing of obstetrics at Ely, Grand Marais hospitals

Apr 15, 2017 12:50PM, Published by Editor, Categories: News
---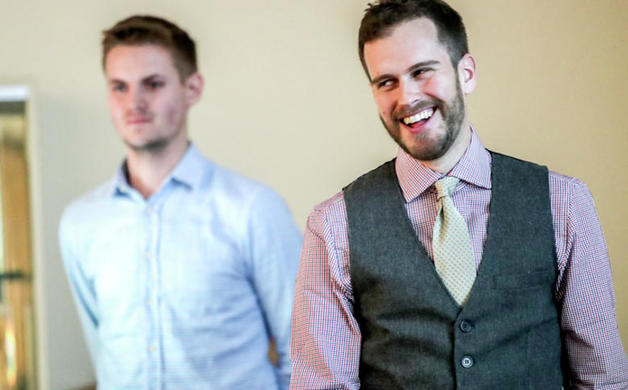 ---
Even before hospitals in Ely and Grand Marais stopped delivering babies except in emergency circumstances, use of their facilities for obstetrics was declining.
Nonetheless, the loss of the services is dismaying to those it affects the most — women who now have to travel from one hour to 2½ hours or more to give birth in a hospital setting.
Those were among the findings of a study presented on Friday at the Annette L. Boman Memorial Medical Student Research Symposium on the Duluth campus of the University of Minnesota Medical School.
In its second year, the symposium largely was organized this year by two second-year students — Emily Davis, 26, from Cook; and Nathan Ratner, 30, from Minneapolis. The research projects were taken on voluntarily in addition to the students' course responsibilities and ranged from the straight-forward ("HOPE Clinic Patient Satisfaction Survey") to the impossible for regular folks to grasp ("MCT-1 GENTAC: Monocarboxylate Transporter 1 Deficiency Genetic Testing and Clinical Manifestation").
Several among the 14 projects reflected the Duluth campus' mission of health care to rural and Native American populations.
That included the study Ratner and fellow student Kale Siebert presented on "Rural Obstetric Service Use and Patient Perspectives in Minnesota."
Although the title is broad, Ratner and Siebert — supervised by faculty member Dr. Jennifer Pearson — focused on the Ely and Grand Marais areas, where Ely Bloomenson Hospital and Cook County North Shore Hospital both ended labor and delivery services in July 2015.
"To our knowledge ... this is the first study to actually explore patient perspective about what the impact of a closure of a rural obstetric service does to families, individuals and communities," Ratner said during the presentation to fellow students and faculty members in a lecture hall at the school.
To find out, the students sent letters to women who received primary or prenatal care at Sawtooth Mountain Clinic in Grand Marais from 1990-2016 and at the Essentia Health-Ely Clinic from 2006-16. The 201 women who agreed to participate anonymously via an online survey were responsible for 355 deliveries, Ratner and Siebert reported.
They found that 83 percent chose to give birth in their hometown hospitals rather than regional hospitals in Virginia or Duluth in 1990-93 and 90 percent in 1994-97. But by 2011-14, that was down to 62 percent.
At the same time, reasons for choosing a place to give birth changed, Siebert said. Women became less concerned with convenience and familiarity and more about capability of performing cesarean sections and providing specialty services in the event of complications, he said.
The two hospitals ultimately discontinued offering obstetrics because they could no longer obtain malpractice insurance if they didn't provide C-sections, Ratner said. "But the decline in usage is a huge part of the story."
Nonetheless, 88 percent of respondents responded "strongly agree" or "agree" to the statement: "I have concerns about the lack of local labor and delivery service and the need to travel elsewhere."
Although it hasn't yet been included in the report, respondents were asked to comment on how they felt when they learned labor and delivery would no longer be available locally and how the news made them feel about their community, Ratner said later.
"We got an overwhelming number of responses about people being concerned for the future of their community, about a decrease in livability and a decrease in attractiveness to child-bearing couples," he said. "This change hit people really deep and made them concerned for the future of their home."
From The Duluth News Tribune,  By John Lundy on Apr 14, 2017 at 8:24 p.m.

---
---