MN DNR Conservation Officer Reports

Apr 14, 2017 03:32PM, Published by Editor, Categories: Outdoors
---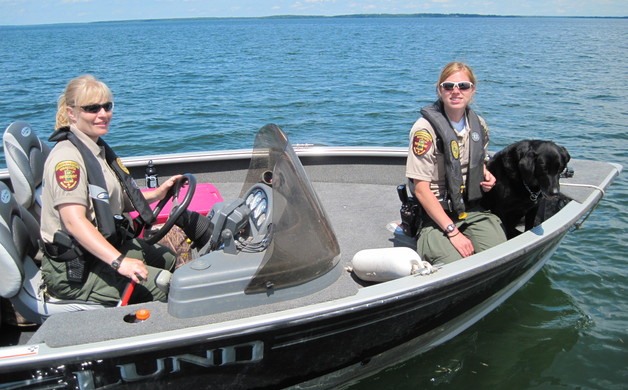 ---
CO Darin Fagerman (Grand Marais) attended a meeting and training during the week at Camp Ripley as part of the Wildland Fire Investigation Team.

CO Mary Manning (Grand Marais East) checked anglers on border water lakes. Ice conditions are deteriorating quickly with the warm temperatures and the officer watched one angler?s ATV drop through the ice and slush as he exited a lake-fortunately he was able to power out of the hole without a tow. CO Manning checked steelhead and lake trout anglers on Lake Superior and its tributaries. Anglers new to steelhead fishing should be sure they review the regulations for fishing the tributaries as it does differ from other river fishing. The officer also followed up on a TIP complaint from earlier this winter.

CO David Schottenbauer (Silver Bay) worked area shore anglers this week. Area ice is starting to pull away from shore and soften, travel is not recommended. As snow melts, area fire danger increases, and fire complaints were responded to.

CO Thomas Wahlstrom (Tofte) checked steelhead anglers along the north shore. Some nice steelhead were caught in area rivers. The officer returned calls regarding wildlife complaints, checked ATV riders, and worked border lakes.  

CO Don Murray (Two Harbors) worked fishing, boating, and invasive species enforcement efforts during the week. Anglers continue to have fair success on Lake Superior streams. With the snow cover gone in most areas, spring burning restrictions are in place and burning permits are required. Enforcement action was taken for licensing and public access violations.

CO Sean Williams (Ely 1) reports no angling activity was seen during the week as several small lakes have opened up and are now almost ice free, larger lakes are still mostly ice covered but are extremely dangerous. ATV activity was up dramatically, especially over the warm weekend. Violations included operating an unregistered ATV, failure to display ATV registration, and operating an ATV with no safety certificate.

CO Marty Stage (Ely) worked a last weekend trout detail in the BWCAW and found the travel conditions to be pretty dangerous. The ice is leaving the shorelines very fast, so most activity on the ice is over now. Please stay off of the ice.

CO Anthony Bermel (Babbitt) reports checking the last of the ice anglers in the BWCA at the beginning of the week with a 100% violation rate to include litter, cans in the BWCA, and crappie over limits. Again litter is a focus of enforcement activities. Spring fish run activities are being monitored. Additional enforcement action was taken for burning outside permit conditions and ATV registration violations.

---
---