Walls & Bridges Poetry And Pottery Slam

Apr 08, 2017 06:54AM, Published by Anne Brataas, Categories: Arts+Culture
---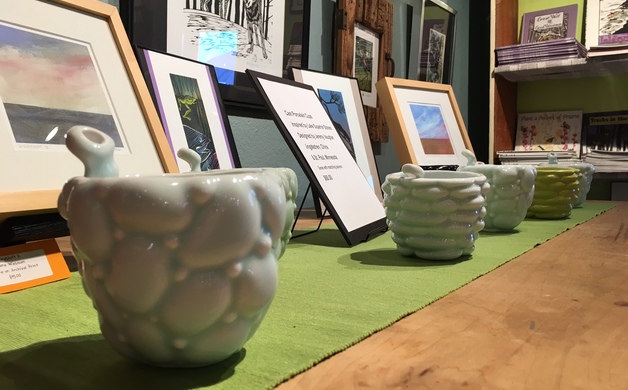 ---
---
"Walls & Bridges", the first-ever multimedia art show to be held at the Betsy Bowen Gallery, 301 First Avenue West in Grand Marais, will be held today from 11 a.m. to 6 p.m.  Spoken word demonstrations begin at 3 p.m.
 Among the featured arists' work is the pottery of Jeremy Vaughan of Jingdezhen China and St. Paul, Minn. Using Lake Superior beach stone molds to inspire his pottery, Vaughan has created hand-cast porcelain vessels using traditional Chinese firing techniques and glazes. The result is a pale, luminous, earthy presence that begs to be touched, held reverently in cupped hands.
"A lot of people are attracted to the color," said Gallery Curator Staci Drouillard. "And I've had two people say they seem almost religious or holy. He actually drinks coffee from the cups. And I can see using them for tea, soups, outmeal—they are equal parts beauty and function." Vaughan brought them to Grand Marais last month, packing as many as his suitcase could accommodate.
 Why break new ground now with a multimedia format that unites visual arts with performance art? 
Drouillard explained it this way: "It's intended to be a one-day show that is fun and interesting at a time when walls and bridges are on people's minds in the current political climate. I think there is something existential here. All these pieces provide a way for people to connect around important ideas."
The multimedia aspect bridges pottery, collage-print making called collagraphy, spoken-word poetry, the spirit world and more. Said Drouillard: "All these things sort of tell their own story, and call on us to add ours."
---
---